His Excellency President Uhuru Kenyatta has sent a message of goodwill and best wishes to all Kenyans as they celebrate Easter.
"And as we enter into this Easter Season, let's remember that it is a season for sacrificing ourselves, the same season that Jesus was sacrificed for the sake of our sins and peace. He died for our healing and not for destruction.
"I pray that we continue with unity and oneness so that we build our country to become a respected nation that we are proud of. A nation where people forgive each other," President Kenyatta said.
The President called on Christians to make an effort to spread love by extending a helping hand to the needy this Easter season in line with the excessive love exhibited by the Lord Jesus Christ at the cross.
The Head of State spoke when he joined the AIPCA faithful for the church's joint holy oil consecration ceremony and prayer service. He commended the African Independent Pentecostal Church of Africa (AIPCA) for uniting after years of division.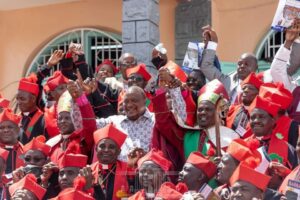 The President also praised the leadership of the church for putting aside their differences and agreeing to work together for the progress of the church.