The National Cohesion and Integration Commission (NCIC) has unveiled a list of popularly used words that will now be considered hate speech and could attract legal action for using them.
With the General Election just four months away, NCIC chair Samuel Kobia noted that the words included in the lexicon have the potential to incite violence between two or more ethnic communities in Kenya.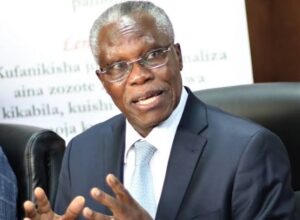 "We have therefore taken the bull by its horns through this exercise of identifying terms and coded language that have been commonly used in Kenya's political landscape with the intent to incite violence against various communities of differing political stances," reads a statement from NCIC.
Kobia however underlined that the lexicon should not be considered a comprehensive list of hate speech terms owing to the fact some of the words might be used innocently and out of context.
"As such, this remains a living document since the terms and coded language shall be regularly updated for use in the social media tracking of the National cohesion and Integration Commission," he said.
Persons found using the said terms will be listed on NCIC's wall of shame ahead of the polls.
"The terms shall also be shared continually with the public in order to enhance their readiness and resilience against manipulation and polarization by political leaders and other influential persons intent is to incite communities against others," he added.
Here is the list of the hate speech terms:
Uncircumcised
Fumigation
Eliminate
Kill
Kaffir
Madoa doa
Chunga Kura
Kama noma noma
Kwekwe
Mende
Hatupangwingwi
Operation Linda kura
Watu wa kurusha mawe
Watajua hawajui
Wabara waende kwao
Wakuja (Those that come)
Uthamaki ni witu
Kimurkeldet (Brown teeth)
Otutu Labatonik (uproot the weed)