In a press statement shared to the newsrooms, Thursday, 30th March, 2023, the Fellowship of Christian Councils and Churches in the Great Lakes and Horn of Africa (FECCLAHA) in solidarity with Churches in Kenya has expressed their deepest concerns over the violence, death, injuries, distraction of property and the general disruption arising from the ongoing mass action.
"This tragic turn of events is aggravating the economic situation in the country at both micro and macro levels," the statement continues to read in part, "Recognizing the constitutional right of Kenyans, we in solidarity with the religious leaders of Kenya, appeal for dialogue between all stakeholders to address the issues of concern."
The regional ecumenical leaders says Kenya is an important gateway to the Great Lakes and Horn of Africa region, and for that reason assures the people of Kenya of their continued prayers for justice and sustainable peace and security in the country.
"The peaceful conduct of the General Elections on August 9, 2022 and subsequent leadership transition is a beacon of hope to all other countries in the region and the entire continent. We especially commend the opposition for choosing to utilize the constitutionally provided structure in challenging the results of the Presidential Elections. The call by the President for a strong opposition to safeguard accountability is commendable."
The statement signed at Adore Addis Hotel, Addis Ababa, Ethiopia, on behalf of the FECCLAHA members by the chairperson Fr. James OYET LATNSIO, commended and congratulated the people of the Republic of Kenya for being stalwarts of peace and democracy in the region.
About FECCLAHA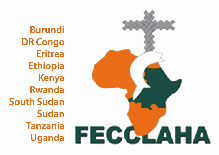 The Fellowship of Christian Councils and Churches in the Great Lakes and Horn of Africa is regional ecumenical organization that was launched in March, 1999 and launched in 2001 in Kenya to provide members with an avenue for sharing perspectives on matters peace and conflict transformation stirred by the endless conflicts rampant in the region.
Since inception, FECCLAHA has taken the lead in enhancing peace and reconciliation in the Great Lakes and Horn of Africa through facilitation of ecumenical cooperation and fellowship within the framework of holistic Christian ministry.