In the last 5 years, the number of Japanese companies established in Kenya doubled to 100, part of which was attributed to the visit made by Japanese companies to Kenya during the Tokyo International Conference of African Development (TICAD 6).
Kenya Private Sector Alliance (KEPSA) CEO Carole Kariuki hosted the Japanese Ambassador to Kenya H.E Okaniwa Ken earlier today at KEPSA offices where they discussed trade and investment opportunities between the two countries.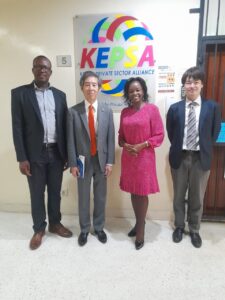 The Ambassador applauded KEPSA for its role in policy and advocacy, support to businesses especially SMEs towards scale-up, and for being a private sector champion.
"Kenya remains a top investment destination by Japanese companies based on an annual questionnaire conducted by the Japan External Trade Organization (JETRO)" Amb. Okaniwa
In the meeting, Ms. Kariuki apprised the Ambassador of KEPSA's focus on policy and advocacy to improve the business environment, social-economic development embracing sustainability and the concept of People, Planet, and Profit, and KEPSA's contribution to the ease of doing business.
They further discussed KEPSA's engagement at this year's TICAD 8 scheduled for May in Tunisia in convening Kenya's private sector to participate and agreed to continue strengthening the relationship between the two parties through continued engagement.
Kenya, being a member of the East African Community (EAC) and COMESA, presents a huge market for Japanese products. Besides, Kenya has a stable macroeconomic environment and maturity of industries.