2001 was a tough year for Flavia Murugi. She had relocated with her mother from Nakuru to Nairobi. When KCSE results were announced, she had missed the university cut-off by two points, partly because of the millennium end-of-the-world craze of 2000. Yes, she was in that cohort who believed the world was ending in 2000.
It left like the end of life. Suicidal thoughts crossed her mind. The future was bleak and hazy.
Around that time she started watching Family TV. On the Wednesday before Easter in 2002, Dwight Thomson was preaching on the Praise the Lord program. He quoted Flavia's favorite scripture – Jeremiah 29:11. It was like he was addressing Flavia directly. "You young lady in the house," he said "You're feeling like your life should end. God still has a plan for you. Give him another chance."
Flavia rededicated her life to Christ and that also marked her connection with Family Media.
The same year, on Christmas day, she lost her mother. Being a single child to a single mother, she was taken in by her pastor as foster parents.
Her new parents put Flavia in a bible school they were running from which she graduated in 2004 with a diploma in biblical studies.
When she was finishing her studies, she had a strong desire to work at Family Media because she liked communication and people stories. She decided to take a step of faith.
"I walked from Ngumo to Kileleshwa to deliver my CV," she recalls. "There was no announced vacancy. I mentioned at the reception that I was looking for a volunteer position as I was about to finish bible school and how Family Media had been a blessing to me."
Two days later Flavia was called. She was informed that a new thing was starting called Family Hope Prayer Line, a call center for praying and counseling people over the phone. She joined Family Media as a prayer counselor. For a month they did 6am to 6pm but then the demand grew and it became a 24-hour prayer line.
Mr. Slingerland noticed that Flavia was comforting, prayed well and people were free to tell her their issues and so Family Hope Prayer Line was transformed into a prayer show.
That's how Prayer Circle was born, in 2004 with Flavia as its first presenter.
That went on for 3 years until July 2007 when Flavia left Family Media to pursue other interests.
After a stint in a few other companies, she became a pastor at Parklands Baptist Church and now at RUACH West.
"I have always had an easy time having conversations because I have a heart for people. I like listening because people can surprise you," she says.
And so Flavia Murugi is our new host of Prayer Circle.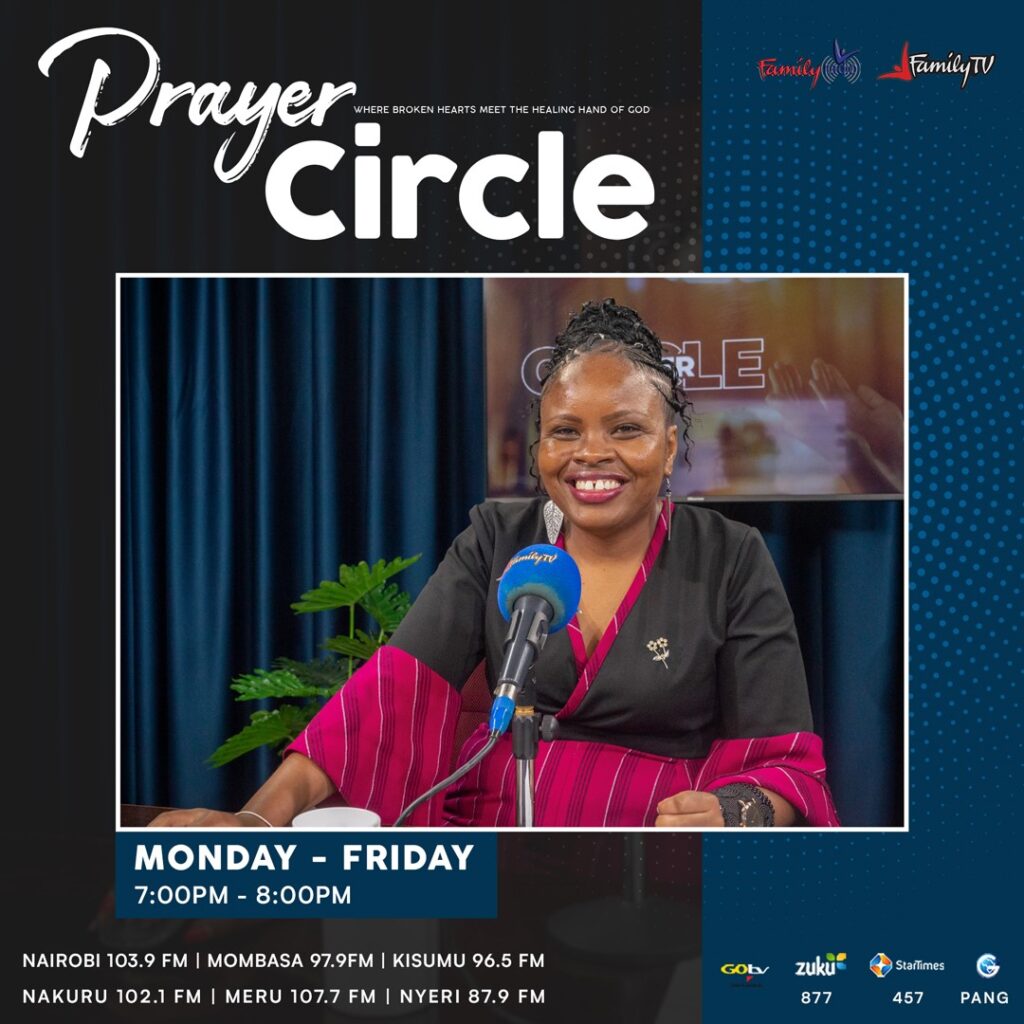 She says, "Coming back as a pastor, knowing the needs that are out there, I see this as a platform for ministry. It's a pulpit for ministry using the skill of communication through radio and TV as the medium."
She's hoping to continue building the Prayer Circle community, a tribe, a family that prays together and wins souls for the Kingdom.
Be sure to catch Flavia Murugi on Prayer Circle every weekday at 7pm – 8pm and Saturdays at 6pm to 7pm only on radio.