Kenya has been experiencing biting drought and famine. The rains are here with us and we believe there will be abundance of harvest in the coming months. Nonetheless, there are parts of Kenya like Kilifi County that have experienced perpetual seasons of sporadic rains for many years.
Kilifi can be very dry. The need for food there is immense. It's not a productive agricultural area and there's little economic activities going on. Locals rely on fishing, mnazi and tourism which has been wrecked by security issues in the coast, covid-19 and rise of AirBNBs.
In 2007, there was severe famine in Kilifi which prompted Faith Evangelistic Ministry (FEM) under its humanitarian arm – Operation Give and Grow (OGG) – to respond by distributing to some of those affected. Rev. Teresia Wairimu is the founder and director of FEM and patron of Operation Give and Grow. The food distribution never stopped because the need didn't go away. It evolved into a feeding program that's still going strong 15 years later.
The famine affected children the most. Schools were empty because looking for food was more important than attending classes. They went to beaches to sell whatever they could for food and that was exposing them to dangerous lifestyles.
"We needed to get the children off the beach, off the vices, off the gangs and ensure that they can get a meal and stay in school," says Pauline Maina, the Administrator of the feeding program.
A central place was procured in Kikambala where the feeding program was launched in 2007.
The center serves hot lunches to 600 children from local schools during the week and 800 on weekends.  Over 1000 line up for food over the holidays and that number remained constant throughout the Covid period.
The program is run by Operation Give and Grow (OGG), a registered NGO and the humanitarian arm of Faith Evangelistic Ministry (FEM).
Pastor Pauline reports that most of the kids carry the food home because sometimes that lunch is food for the whole family. "They go and share with their grandmothers, siblings, parents and the rest of their families."
Church is born
As the number of children grew, there was need to have a spiritual base for the children to be discipled in the ways God. That's how FEM Kikambala Church was born, out of the need to minister to the children who came for lunch.
The community in Kikambala is quite cultural and most of their beliefs involve traditional practices such as witchcraft which are retrogressive thus the introduction of God's word. Parents and grandparents started accompanying their children and the fellowship gradually grown into a vibrant family church.
"We see lives being transformed day by day. It takes a while to change how people live and perceive life but we are seeing children getting saved, baptized in water and the Holy Ghost and loving God"
By Spiritual design, the church is being pastored by a beneficiary of the feeding program, Pastor Matano Mngoma who was among the first group that the project started with.
Please subscribe to our newsletter for Kenyan and International Christian news, encouraging testimonies, devotions, podcasts and updates from Family Media.
We promise to send you an email only once a week.
Scholarship
A scholarship program under FEM has also been in operation. So far, hundreds of students have gone through high school, colleges and universities.
"We have some who are already working; we have a banker, a lawyer and others in different sectors. Others have families," Pastor Pauline says.
Those in primary schools are assisted to stay in school by paying for 'little needs' such as exam fees.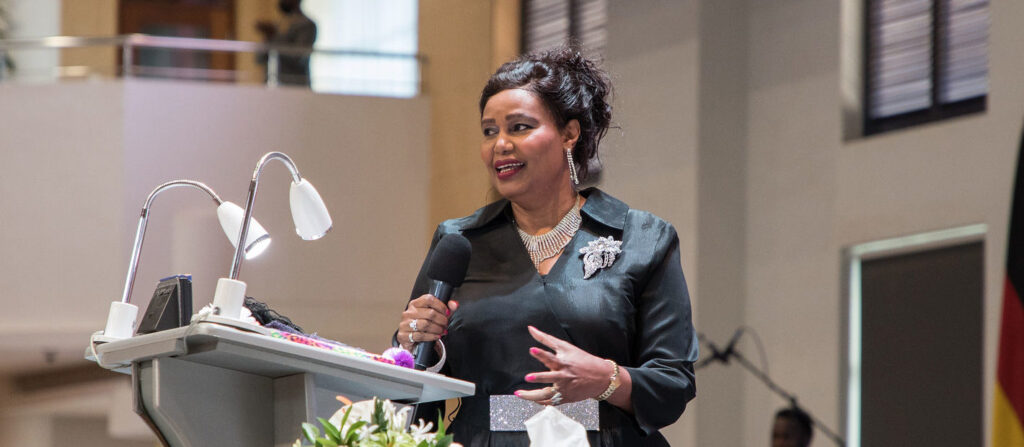 As the children grew in numbers and stature, a mentorship program was put in place to guide them through life's transitions and circumstances they find themselves in. Spiritual nourishment coupled with education and mentorship has opened up the minds of FEM beneficiaries and that ends up transforming and uplifting the community.
Leonard Mwambao is a good example. He's now a healthcare assistant at a Hospitals in Kilifi. He says, "I am one of the beneficiaries of the feeding program. I was able to focus on my education since I had somewhere to go and take lunch."
For Faith Mungeri, all her lunches throughout primary school were at FEM's Kikambala feeding center.
Boniface Kinyili is now a trained chef working in Kilifi courtesy of FEM's scholarship and mentorship programs. He attributes his spiritual growth to the church. He periodically uses his skills to serve children at the center.
James Safari moved from Oloitoktok to Kilifi as a teenager to look for work. He found a community in FEM Kikambala and his story changed. His education was sponsored through high school and university. James is now an electrical and electronics engineer.
FEM is like an oasis in the desert, according to the local community. It's a place where kids get life, connectivity and safety. A place where their lives are changed day by day.
According to Pastor Pauline, Faith Evangelistic Ministry is the main donor. There are also individuals, corporations, organizations and churches who support the program in kind and financially.