With eight months remaining, the window of opportunity is closing for South Sudan to meet critical benchmarks required to complete its transition away from long-running civil conflict, the Special Representative for the country told the Security Council on Monday, pressing parties to the November 2018 peace deal, to implement their commitments in letter and spirit.
"This includes the full and proper participation of women in all the mechanisms contemplated by the [Revitalized Agreement on the Resolution of Conflict in South Sudan]", said Nicholas Haysom, who is also Head of the UN Mission there (UNMISS).
"What is needed is national leadership, resources and a visible commitment by South Sudan's leaders to fulfil their responsibilities under the peace agreement," he clarified.  He pressed parties to take the steps necessary to exit the transitional period.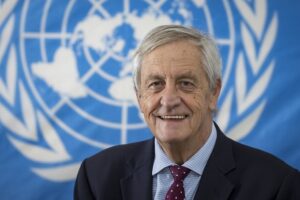 Specifically, he urged them to agree on a roadmap – as called for by the African Union, the Intergovernmental Authority on Development (IGAD), the Reconstituted Joint Monitoring and Evaluation Commission and the United Nations – for the completion of outstanding tasks.
Source: https://news.un.org/feed/view/en/story/2022/06/1120872