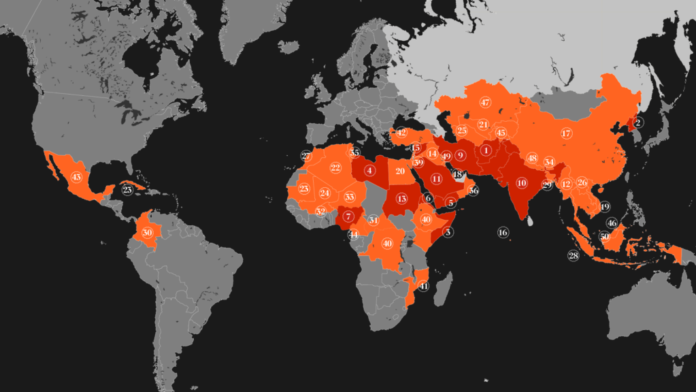 A key conference on Christian persecution is being held this week in Cornwall.
Charities including CSW, Aid to the Church in Need, HART (Humanitarian Aid Relief Trust) and Release International are supporting A global persecution of Christians: Where do we go from here?
The Prime Minister's Special Envoy on Freedom of Religion or Belief, Fiona Bruce MP, will be giving a keynote address, along with the Bishop of Truro Rt Rev Philip Mounstephen, whose review into persecution has been accepted as government policy.
Other key speakers include Baroness Cox of HART, Mervyn Thomas of CSW, John Pontifex of Aid to the Church in Need and Release International CEO Paul Robinson.
"It's a significant conference, yet another signal that the UK Government is taking the persecution of Christians seriously and it's a growing problem around the world. It might sound like a talking shop but it's much more important than that. Because freedom to believe is a cornerstone of all freedoms, if you're not free to believe, you're not free to speak, if you're not free to speak, you're not free to act, you're not free to choose. So it's tremendously important and the UK Government has got right behind this, which is really good news." Andrew Boyd, Release International
Countries under scrutiny at the Truro Conference are expected to include Nigeria, where more Christians are being killed than in any other nation.
Baroness Caroline Cox says between 13,000 and 19,000 Nigerians have been killed since 2009, many for their faith. She writes: "The violence appears designed to reduce the number of Christians in the region. The attacks… may rise to the level of ethnic cleansing or even genocide."
Fiona Bruce MP stated in May : "Some 360m Christians across the world suffer persecution for their faith. Somewhere in the world every two hours a Christian is killed for their faith."
Andrew Boyd says it's important Christians around the world pray for the persecuted :
"We're aware that around the world as intolerance is growing, persecution is growing. And that's set to worsen with insecurity and with food shortages, because what happens is people start to search for scapegoats. That's what they've always done and it's so important that we pray into this."
The conference, staged by Caucus for the Persecuted Church, takes place at Truro Methodist Church.