Christians and churches around the world celebrated Palm Sunday in physical gatherings today, in over two years, since the outbreak of the COVID-19 pandemic, to commemorate Jesus' triumphal entry into Jerusalem before His crucifixion and resurrection, with symbols such as palm crosses, which are not mere rituals but refer to deep spiritual truths.
On Palm Sunday, also called "Passion Sunday," which falls on the Sunday before Easter, Christians carry palms and other branches to the church and hold processions, as the New Testament records that people covered the path of Jesus with palm branches as He returned to Jerusalem knowing that He was going to be crucified.
The book of John 12:13 is one of the verses read on the occasion. "So they took branches of palm trees and went out to meet him, crying out, 'Hosanna! Blessed is he who comes in the name of the Lord, even the King of Israel!'"
The palm represents peace and triumph, and it was a custom at the time to honor respected people with palm fronds. Jesus' coming into the city riding on a donkey was also significant, as it was traditionally seen as a call for peace, rather than war.
Pope Francis used the occasion to call for an end to the war in Ukraine for a permanent "Easter truce."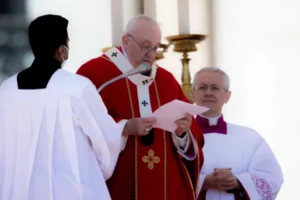 "Let the weapons be put down," he urged. "Let the Easter truce begin."
"But not to provide more weapons and pick up the combat again — no — a truce that will lead to peace, through real negotiation that is even disposed to some sacrifice for the good of the people. In fact, what victory is there in planting a flag on a pile of rubble?" he said.
On his part, the Archbishop of Canterbury Justin Welby, reminded Christians that Palm Sunday demands humility in every way: in our ideas of power and status, but even more so, in our understanding of ourselves as we come before God. "Palm Sunday is demanding; it asks us to look at our lives, and ask, who are you waiting for – and are you really ready to follow? He posed.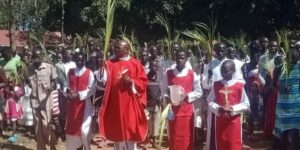 Here in Nairobi and across the county, Pastors took onto the pulpit to share the Gospel's Call for Christians to lead in peace initiatives around the 47 counties as we gear-up to the August 9th General Elections. They called for peaceful coexistence and prayer for the Nation.
Palm Sunday is the last Sunday of Lent and the first day of Holy Week in Christian churches. 
Happy Palm Sunday!