In 2016, Gospel singer, Eunice Njeri broke the internet or rather caused a stir in the Kenyan entertainment scene. By announcing her engagement and a wedding date on her socials. Gospels artists, pastors and Kenyans at large showered her with love and blessings on the new step she was about to take. However during the wedding day in the USA something changed;
"On the 27th Nov 2016, Isaac and I did go to the altar to get married, but at the end of that day I realised one thing, I couldn't do it my heart was somewhere else. Probably in Africa doing what I do best, am still trying to figure that out. I immediately left for Kenya and have been serving God the best way I know how. To all who supported Isaac and I am grateful may God bless you immensely. To all who were hurt in the process I apologise. The marriage was," Eunice announced then.
The songstress went back to her old ways and kept her; personal life private from the public eye. However, on the 15th of August 2022 the singer broke the internet once again, "So in other news, 2019…met Mr Muthii, 2021 married him, 2022 blessed with a bouncing baby boy!!! Glory to God!!! Haaya! As you were," she announced on her Instagram.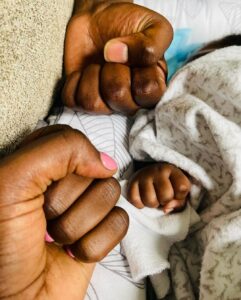 We are all smiles after hearing the news, May God continue to bless the Muthii's family.