If you've been listening to 20 The Countdown Magazine for a while, you will probably agree that https://familyradio316.com/ is where the Music Does the talking. For 24 years now, we are spreading the gospel around the world through music, one countdown at a time.
20 The Countdown Magazine is a 2-hour magazine-style syndicated radio show that counts down the top 20 Christian songs each week. Hosted by William Ryan, III, featuring artist interviews, behind-the-scenes Christian music news, and the latest Christian songs of the week.
Never miss The Countdown, every Saturday and Sunday, tune in at 11 am to 1 pm as William counts down the biggest songs in Christian music and listen as artists share the stories behind their songs. William also gets time to talk about his passion for music and the next generation.
Though your financial partnership, you make it possible for us to bring music that strengthens our listener's faith and makes it available to everyone to enjoy the longest-running Christian music countdown show in the world, through the airwaves.
About 20 The Countdown Magazine
20 The Countdown Magazine was originally launched by the legendary Jon Rivers in 1985 and William began hosting the show in the fall of 2019 after Jon's retirement. William met Jon in 1998 while working at KLTY-FM in Dallas, TX where they ended up doing the morning show together for several years. Jon hired William to produce his morning show when William was fresh out of high school and taught him all about Christian music and radio programming. They remained close friends even after Jon left KLTY around 2001 to work for another Christian radio station/network.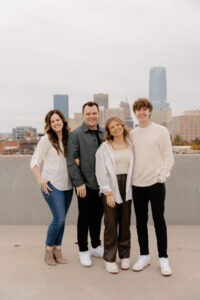 William was born and raised in the Dallas/Fort Worth area and currently lives in Roanoke, TX with his wife, Christy, and their teenage twins, Bailey and Morgan.