In an event held on Thursday evening at the Kasarani stadium, the Kenya Kwanza presidential flag bearer William Ruto unpacked his five-point agenda for Kenyans.
Ruto's manifesto dubbed 'The Plan' mirrors the bottom-up economic model that he has been pushing in his campaign trails. The Manifesto captures MSMEs and Financing, Agriculture and Food Security, Housing and settlement, Healthcare Access, Digital superhighway and creative economy.
Ruto says, Kenya's economic challenges require immediate attention and if elected his government will prioritise the agricultural sector because it is the largest sector of the economy, contributing half of Kenya's GDP, a quarter directly and another quarter indirectly.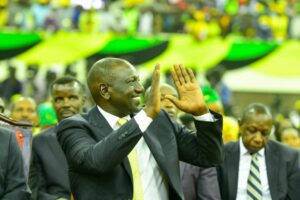 William Ruto also insists that he will end State Capture in Kenya immediately he takes office.
"My government will complete the implementation of the 2010 Constitution, strengthen the rule of law, increase access to justice, ensure respect for human rights, while respecting the United Nations Sustainable Development Goal number 16 which focuses on peace, justice, and strong institutions," he said.
On ending the weaponisation and politicisation of the anti-corruption efforts, the DP said he will allow the relevant institutions to freely exercise the independence given to them by the constitution.
He said should they be successful in the August General Election, he will initiate the process of freeing the running of public affairs from conflict of interest within a month into office.