An unexpected fuel shortage has hit Nairobi, Western Kenya, the North Rift and many parts of rural Kenya mostly supplied by independent oil marketers. Is Kenya staring at a fuel crisis and what is causing the shortage?
The shortage of the precious commodity has seen some petrol stations turn away motorists after their pumps run dry while others have resolved to exercise rationing.
In some parts of the country, however, the shortage, has been attributed to deliberate hoarding of the product by oil marketing companies which are now blaming the government for failing to remit the fuel subsidies funds to them.
On March 28, the Energy and Petroleum Regulatory Authority (EPRA) released a statement attributing fuel shortage to logistic constraints.
"Reference is made to the ongoing reported shortage of petroleum products in parts of North Rift and Western Kenya. The shortage is occasioned by unprecedented logistical constraints. These challenges have caused independent petroleum dealers to run out of petroleum stocks," read part of the statement.
Unfortunately, the shortages people are encountering at petrol stations a cross the country don't come from a lack of fuel drivers to distribute the fuel – but they come from delays in subsidy payouts by the government.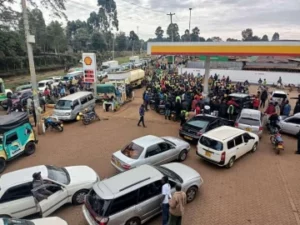 The shortage which began in some parts of western Kenya has led to panic buying by motorists who continue to flood petrol stations across the country.
Matatu Owners Association (MOA) chairman Simon Kimutai said yesterday that the public transport sector could be crippled if the government does not urgently pay fuel marketers to restore supply.
"The economic impact of the shortage will be enormous. Many boda bodas have already hiked their fares." Mutai said.
On their part, Consumer Federation of Kenya (COFEK), has called on EPRA to crack the whip on the major Oil Marketing Companies (OMCs) who are hoarding fuel now that Kenya pipeline confirmed that all their depots are full.
"It's painful that even regulator is aware that Oil Marketing Companies are deliberately hoarding fuel in order to blackmail government to pay their arrears. OMCs are punishing innocent consumers." Stephen Mutoro – Gen Sec COFEK.
Mutoro adding that, "OMCs hoarding fuel is economic sabotage, a treasoable act, which would call for President Uhuru Kenyatta's personal attention."
Speaking at AIC Pipeline Church in Nairobi County on Sunday, April 3, President Uhuru Kenyatta weighing on the bitting fuel shortage and the high food prices being experienced across the country noted that Kenyans were unfairly bearing the brunt of an international conflict.
"Just after persevering the effects of the coronavirus pandemic, another war has erupted in Europe and now the whole world has to suffer because of an oil shortage and other factors. The price of fertilizers has shot, the cost of fuel has also gone up and there has also been a shortage in petroleum products," Uhuru said.
Public transport sector could be crippled if the government does not urgently pay fuel marketers upto a tune of Ksh.13 billion to restore supply. The effect could also be dire in the agricultural sector since the planting season has just started.