"Every 5 years we are treated to heightened tensions, violence, threats, hate speech, and political vitriol that threatens to throw us into violence. It is this threat that led The National Cohesion and Integration Commission in creating the Roadmap named: The Conflict Hotspot Mapping report." NCIC chairperson, Rev.Dr. Samuel Kobia said.  
 The launch of the report is another big step in the Roadmap to a peaceful election comes August, "We are aware that it is not only important to take action against any form of possible violence, as one who is forewarned is one who is forearmed." Rev.Kobia said.
The report which was launched today, barely 70 days to the elections indicates that out of the 47 counties of Kenya, six are likely to experience electoral violence in the forthcoming General Elections.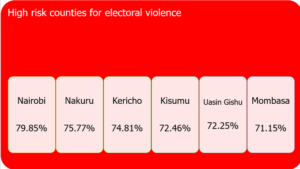 NCIC Commissioner Danvas Makori stated, "Nairobi County, with a KEVI-C score of 79.85%, is at the highest risk of experiencing electoral violence come August 2022. Nairobi is seen as the epicenter of political contestation in Kenya." Nairobi is followed by Nakuru at 75.77%, Kericho at 74.81%, Kisumu at 74.26%, Uasin Gishu, and Mombasa counties were placed fifth and sixth with 72.25% and 71.15% respectively.
The Commission further reports that there are other counties in which security should be heightened, "10 counties including Narok, Marsabit, Laikipia, Lamu, Baringo, Isiolo, Meru, Nandi, Samburu & Bomet depict a medium-high risk KEVI-C score," Makori said.
On her part, the NCIC Vice-chair Wambui Nyutu alludes to the confidence that there is hope for a peaceful election in Kenya. "Kenyans are not ready to move from one home to another, they are not ready for the bloodshed. Kenyans are ready for peace."
During the launch, various stakeholders and partners of NCIC shared various remarks on the report. "We desire that the elections take place, and do so peacefully. NCIC as the cornerstone, the UN is proud to be walking this journey with you and believe that we will see an '#ElectionsBilaNoma'," Dr. Stephen Jackson, UN Resident Coordinator.
The report had a clear objective of acquiring a detailed understanding of the peace and security situation in the country to provide a proper policy direction ahead of the elections. It is time for the various security agencies and Kenyans at large to keep peace before, during, and after elections.