Two-time Olympics marathon champion Eliud Kipchoge and Brigid Kosgei Sunday won the Tokyo Marathon men's and women's races in new course record times.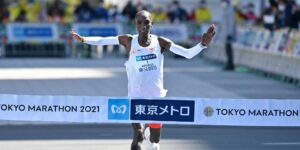 Kipchoge won the race in 2 hours 02 minutes and 40 seconds breaking the previous record set in 2017 by fellow countryman Wilson Kipsang of 2:03:58.
"I'm really happy. I'm excited again to be in Japan, especially after winning the Olympic Games last year in Sapporo,"  Kipchoge said.
"I really, really, really appreciate the crowd. I think the Japanese are really helpful. That's why I say in the press that I run strong in Japan."
Kosgei on her part broke at the 35km mark to finish in 2 hours 16 minutes and 2 seconds shattering Israel's Lonah Chemtai Salpeter's time of 2:17:45.
Kipchoge proved to the world that he is still the man to beat after maintaining a pace that saw some of his competitors fall off one by one after the pacemakers dropped.