Independent Presidential Aspirant Reuben Kigame has unveiled Irene Ngendo Kamau as his running mate ahead of the August polls.
While addressing the press at the ACK Guest House, Kigame, a gospel singer, said he is confident he will transform the country if elected President.
"Irene and I believe in the citizens of this country. We believe Kenyans deserve more than what we've been getting," he said.
Kigame says that they aim to build Kenya by empowering women and men and securing children's futures.
"We are committed to the Utu philosophy and believe that people come before and above profits. Expressways are good as are SGRs but we ought not to do that while impoverishing citizens. The government's expenditure should be directly translatable to an improved standard of living for the citizens, opportunities for everyone, and a bright future for posterity." He said.
As the IEBC submission deadline elapses, Safina Party presidential candidate Jimi Wanjigi also made his announcement today (Tuesday) at Ufungamano House in Nairobi.
"I would like to introduce you to Willis Otieno, my running mate and deputy president-designate in the upcoming August 9th general election. His passion for socioeconomic rights and community empowerment, as well as his extensive political experience, is a huge boost for us," Wanjigi said.
The 39-year-old Otieno, who hails from Siaya County, served as Raila Odinga's head of the presidential campaign secretariat in 2017.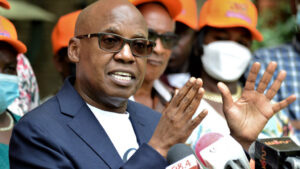 Wanjigi decided to run under Safina Party after failing to get into the ODM presidential nominations with party leader Raila Odinga.