IEBC in-conjunction with Disability Mainstreaming Foundation of Kenya (DMF-K) is today conducting a training workshop for Kenya Sign Language interpreters on the election process and procedures in Nairobi.
The event will culminate with the launch of Braille Version of Voter Education Materials to promote inclusion in the dissemination of electoral information for Persons with Disabilities (PWDs) in Kenya.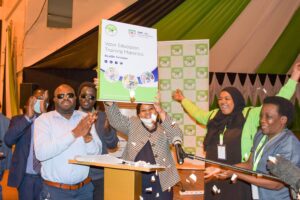 The voter education exercise is to ensure that PWDs are included and fully participate in the upcoming general elections
. The organization has transcribed voter education materials into BRAILLE and other forms which are friendly to PWDs.
IEBC and DMF-Kenya will also sign a Memorandum of Understanding on voter education targeting PWDs at the community level.
The MoU aims at removing the current attitudinal, environmental, communication and/or institutional barriers that hinder participation of PWDs in the electoral process, and facilitate and promote equal participation with the aim of increasing participation in electoral processes.