For a long time, the news coming out of Mt. Elgon Sub County is that of conflict, teenage pregnancies, land issues, devastation and hopelessness. That story is changing. One ministry is at the forefront of ensuring that the next generation of Mt. Elgon is properly discipled in order to transform their generation.
That organization is Mt. Elgon Children Ministries. One of their missions happened in Kopsiro from 1st to 5th May 2023 in partnership with International Leadership University (ILU). Over 1000 children were ministered to over the 5 days.
Kopsiro is the epicenter of past conflict in the Mt. Elgon and home to the infamous Matakwei.
But how did Mt. Elgon Children Ministries start and what pushed them to reach out to children in Mt. Elgon region. To understand that, we have to go back over a decade ago, 2010 to precise.
After the Sabaot Land Defence Force (SLDF) had ravaged the place, the Truth Justice and Reconciliation Commission (TJRC) visited the mountain to ascertain the injustices meted on the people, both by SLDF and the army who came after.
Mirriam Wambugu Chemayek was appointed by TJRC as a counselor and translator since she speaks the language. As she listened to the horror stories from men, women and children, the Lord placed a burden in her heart to reach out to children.
She founded Mt. Elgon Children Ministries in 2012 and in 2013 the first children's outreach (Vacation Bible School) was born. It started in Kapsokwony with about 800 children attending. Since then the outreaches have happened in Kaptama and now Kopsiro. Beyond that, the ministry trains children workers and pastors across the mountain and provides materials to use in teaching Sunday schools. This way, children are disciple all year round in their Sunday schools.
Kopsiro mission
In a community where there's little hope, where life is cyclic and good news is hard to come by, it was encouraging for the team to see children full of joy and encouraged.
"We had a successful mission. Many children were impacted. There is light in a dark place. The children were excited and it was a joy to witness them being taught the word of God in a way they understand," says Mama Mirriam, as she is commonly called.
On their part, the staff and students from ILU were amazed at the hospitality and openness of the community and the enthusiasm of the children to learn and be engaged.
Bill Dindi heads the Practical Ministry Department at ILU and was part of the Kopsiro mission from beginning to end. He says, "As we engage these children, they are the future of the community and they will truly be the objects of change. Their mindsets and worldviews can be shaped and changed while young and we are getting to see the evidence of that. "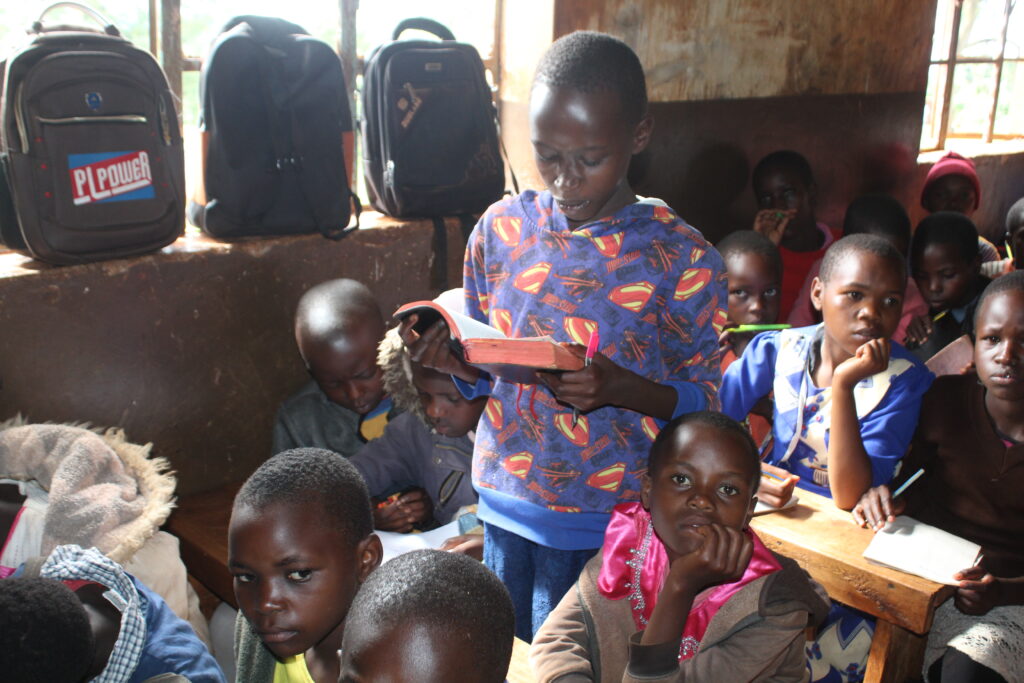 As the team engaged the children, they could see signs and traces of the troubled past of the area. They could tell that some of the kids' perspectives have been shaped by that background. A good number of them came from single-parent homes. The sense of instability and uncertainty in the area has also contributed to dismal infrastructural and economic development.
The students from ILU who were serving in the mission got to see the practical aspects of their training. They explore the leadership challenges in Mt. Elgon; what a vacuum in leadership can do, marginalization of people and inevitability of a leadership gap being filled by people who could hurt others.
They offered practical workable ideas like training of teachers in order for the ministry work to continue since they were only there for a week.
Long-term engagement
Dr. Tim Kiruhi, Vice-Chancellor of The International Leadership University acknowledged the need for long term engagement with the community. In the three days he was in Kopsiro, Dr. Kiruhi spent time with the high school students, teaching, mentoring and listening to them. They took a while to open up but once they did, many issues were shared and discussed.
"We envisioned them to see that they are not too young to be used by God to make a lasting difference. People like David, Daniel, Joseph, Esther and even Mary the mother of Jesus were used by God in their teens. We helped them to develop a vision for their lives," he says.
"For our students, we want them to see how their lessons in class apply to solving real problems in society. So that they are not just ivory tower students but people who can engage and be problem solvers in the community. We've also been praying that they deepen their own walks with God."
On the last day, Dr. Kiruhi and the ILU staff had a meeting with church and local leaders.
"We agreed that we need to continue the engagement for long term impact. We will work with the leadership at different levels so that they own and support the work for sustainability. The children will remain the center because they are our entry point," he reports.
His summarized the mission by saying, "It has been quite successful. I can say that God has done more than we could have asked or imagined for the short time that we've been here. We cannot wait to see the manifestation of the seed that has been planted here."