Rev. Calisto Odede the Presiding Bishop of Christ Is The Answer Ministries (CITAM) on Thursday, September 22, dedicated a modern evangelism truck at CITAM Karen.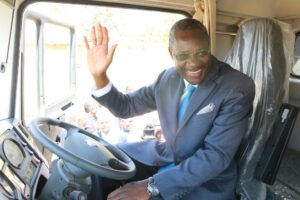 It was a joyous event, praising God, for those who graced the occasion to experience a demo on the tailor-made systems installed on the truck for outdoor sound and visuals.
The truck which is the fast of its kind, has an inbuilt platform which flaps up and down at a touch of a button with clear sunlight screens on the sides. The sound system is powerful enough, with clear effect, to reach over 10,000 people in an open ground. The truck is equally built with a powerful generator that can comfortably run the entire set up, making it easier for the evangelism teams incase they visit remote areas of our country.
Bishop Calisto Odede thanked God for the family that gave Ksh 27M towards the purchase of the truck. "The truck will help in providing answers to many through preaching about Jesus Christ, the deliverer," the Bishop stated. "It will help in the propagation of the gospel to many people who are living in bondage."
Present in the event was members of the Council of Elders, Bishop Karita Mbagara ( Deputy Bishop), Rev. Ken Isige( DFA), Rev. Charles Obara ( Regional Overseer, Southern), Rev. Elias Githuka ( Head Of Missions), among various CITAM managers.
Many were elated by the doing of the Lord and said that many people will get saved during the evangelism trips the truck will make.
"Our prayer is that the name of the Lord will be honoured and glorified through proclamation of Jesus Christ from this truck," Bishop Odede.