The entire family of the National Council of Churches of Kenya congratulates Archbishop Jotham Namure Okwaro on his consecration and enthronement as the 6th Minister in Charge of the African Interior Church.
Most Rev Jotham Okwaro was elected Ag. Archbishop in December 2020 following the demise of the head of the church, the late Archbishop Joram Olwamba.
Archbishop Okwaro was ordained into priesthood in 1998, and has served in different capacities in the church since then. Over the last five years, he served as the Deputy Archbishop.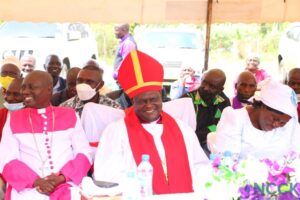 The NCCK appreciates the peaceful and orderly transition witnessed in the church, and we join the members of the Africa Interior Church in praying for the Archbishop Okwaro as he works to achieve the vision of serving the church and community.
Our prayer and word of inspiration for Archbishop Okwaro is drawn from Acts 20: 28
Keep watch over yourselves and all the flock of which the Holy Spirit has made you overseers. Be shepherds of the church of God, which he bought with his own blood.
We assure you of continuous support and prayers from the NCCK.
The NCCK family also congratulates the entire family of the African Interior Church on the consecration and enthronement of their new Archbishop, the 6th Minister in Charge.
Signed on this 5th day of February 2022 at the Old Ebunangwe Boys High School grounds, Vihiga.
Rev Canon Chris Kinyanjui
General Secretary
Courtesy: www.ncck.org