Reverend Ambrose Nyangao is the senior pastor of Parklands Baptist Church located in Westlands, Nairobi, with a purpose to glorify God by obeying the Great Ten Commandments and Great Commission.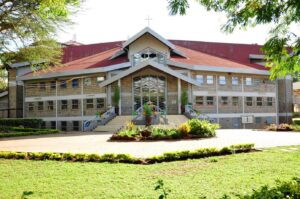 He has been the Senior Pastor of Parklands Baptist Church since 1992.
He has served in various capacities including as a board member at the Nairobi International School of Theology, as a Chair of the Board at Kenya Baptist Theological College and a board member of Finish the Task (FTT).
On this week's special Episode of Behind The Scenes, Family Media CEO Leo Slingerland had a sit down with the Reverend to talk about the significance of Easter. Catch this insightful interview on Friday April 7, at 8:30 pm with a repeat of the same on Saturday at 7:00 pm.
He and his wife Martha are blessed with two children, Caleb and Lisa. He is 64 years.