According to Svitoglyad News Agency, the boards are in Rivne, Lutsk and Kremenchuk; the first two are cities in the western half of the country; Kremenchuk in the centre of the country. In total, there are more than forty boards.
The billboards depict soldiers of the Armed Forces of Ukraine and inscriptions from the Bible or motivational phrases urging people to pray to the Lord.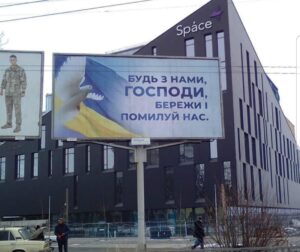 These boards are an alternative to the many obscene and hateful inscriptions, which have been widespread in the country since the beginning of Russia's full-scale invasion of Ukraine.
The Mayor of Rivne, Oleksandr Tretyak, is a great supporter of the billboards. On Facebook, he said: "There is strength, because the Lord is with us, because our people kneel and pray. The victory will come fast. Together we are strong! God is with us!"
The design comes from Adrian Bukovinsky. On Facebook, he invited all mayors to raise such boards and publish the Christian encouragements.