Damaris Kimani is a young lady who has gone through the full circle of life. From hitting, rock bottom and becoming a rebel and eventually an addict. The rollercoaster of life took her further into desperation of uncertainties. But she found, light when she accepted Christ into her life.
Looking at the beautiful, vibrant, inspirational and passionate Damaris. Ministering and inspiring the masses; one would never know she is a raising phoenix. Whose wounds turned into testimonies of how mighty our God is. Miss. Kimani is also the CEO of Most Loved Initiative as well as an Events Planner.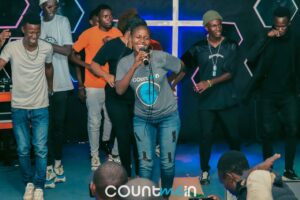 "My best childhood musical experience (a huge smile flashes across her face) is when I was leading as a soloist back in music festivals in school. Where we managed to get to the finals in Kakamega, Masinde Muliro University. It was one of the best moments performing in front of a huge crowd and getting a certificate," Damaris stated in the sit down.
Music was her heart's desire, a creative outlet that she found solace in.With God's favour an opportunity knocked on her door and she took it. It was an offer to be trained at Impact Music Academy. The songwriter and recording artist, officially joined the gospel industry in 2018.
"Truly let me say my biggest inspiration is from the Bible. I get lots of encouragement from different characters and I learn a lot from their stories. Thereafter I come up with a scenario that people can relate with in their day to day life," she went on to say.
"Furahia" was Damaris Kimani's first debut single. A track that was widely loved and accepted. Which also propelled her to the limelight. "My production process has always been the best! God has really blessed me with the best audio and video producers that make my work easy. (Smiling) Sometimes it becomes a bit hard to execute something cause of finances but all in all God has really been faithful."
Damaris went on to release "Forward" a song that pushed her out of her comfort zone. This was a song birthed from a lot of disagreements and agreements. At the end, a masterpiece was created. My all-time favourite track from her songs list is "Upendo Wako" a song that heals me, with every listen.
"Ooooh, wow, wow! trust me when I tell you that "Upendo wako" is one of my best tracks and will always be. Basically the message relates a lot with what I went through before I got saved, the main message was to alert people that "The enemy comes to steal, kill and destroy but Jesus came so that we may have life and have it in abundance" (John 10:10).My main message was a reminder that The love of God brings healing and Peace if only you allow yourself to be saved by Him, as the word encourages us COME AS YOU ARE," She emphasised.
Ms. Kimani desires to make music that will bring impact, healing and transformation in the lives of many across the globe. Hoping one day she will receive testimonials from people. Whom her songs have ministered too.
Aside from music, the marks left behind by the punches of life. Have awarded her, with a great sense of humour; "Hahaha.. I think comedy is just part of my life but I can't say am a professional one😂😂.There's that part of me that has the acting spirit."
Her life's vision is to make impactful music that will live in people's heart for as long as she can. Ms. Kimani also hopes to travel the world as she Ministers and wins Souls for Christ. Her parting shot, "This world we are leaving in is very cruel. But I am here to encourage you that; when you choose God you Choose life. Secondly, turn your worries into worship and God will turn you battles into Victory. Lastly follow me in all my platforms for more great music and inspirational moves. IG: damariskimani_, FB: Damaris kimani, YouTube: Damaris kimani Tv."