The National Council of Churches of Kenya (NCCK) Programme Committee is holding a two-day National Consultation Meeting on Securing Elections 2022, at Jumuia Conference and Country Home, Limuru.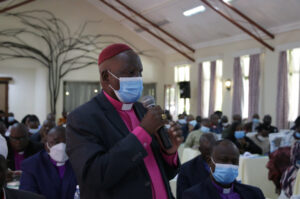 The forum that started on Wednesday 2 March 2022, has brought together Heads of Member Churches and Organizations, Chairpersons from the NCCK County and Regional Committees, Women and Youth Representatives from the Regional Committees, and leaders of Women Ministries in the member churches.
The goal of the forum is to review the scenarios on the 2022 elections, establish national and county level advocacy, dialogue and mediation teams, and strategize for rolling out dissemination of peace messaging.
Reverend Edward Buri of PCEA speaking on 'The Church and the Light Status' said, "A church that is in a country of corruption, yet has no injuries, has no marks to show, is likely not fighting the corruption" – Rev Edward Buri.
He further urged, "This year of elections, we must knock off the bushels and take our status as lighters. The church must actively perform in its duty in leading masses" – Rev Edward Buri.
Towards this, the meeting will have discussions on relevant topics such as Emerging Observations and Scenarios on Kenya 2022 Elections; Electoral Preparedness – roles of Institutions and Processes; and the State of the Nation.