The Media Council of Kenya will recall all accreditation cards issued in the 2023 accreditation cycle in a bid to contain rising cases of fraudsters posing as journalists.
Media Council of Kenya CEO David Omwoyo says the Council will issue new Press Cards that will have  additional features including a barcode and QR code that can be scanned using a smartphone.
"All 2023 Press Cards issued before January 26, 2023, will be allotted afresh at no cost. All those in possession of the cards will be required to apply or renew again and return the old Press Cards before being issued with the new card"-  Media Council of Kenya CEO David Omwoyo
"We are committed to bring credibility and sanity to the media industry and I urge all stakeholders to support us in ensuring media workers uphold ethics. I urge law enforcers to help the industry to stop these criminal elements who masquarade as journalists", said Mr Omwoyo.
He further emphasised that the press cards would be linked to either a media house or media association group where a journalist belongs to for accountability purposes, saying the move will specifically target freelance journalists in order to deal with ethical contraventions.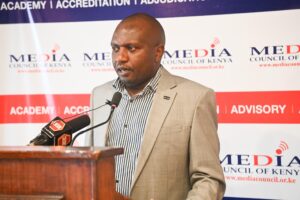 "We need to fine tune the matter around freelance journalists. The Council is working on attaching them to  the media houses they work for or media association groups where they belong as members and make the organisations liable on matters around ethical breaches", he said.
He urged the stakeholders to collaborate in this venture as it would help clean up the industry and restore public trust. He added that the Council will provide the verification methods and appealed to events organisers and hoteliers to only grant access to duly accredited journalists with valid MCK press cards.
National Police Spokesperson Dr Resila Atieno Onyango welcomed the effort and affirmed support from the police force to address the matter.
"In line with our mandate, we welcome the move, and we will work closely with the MCK to weed out the fraudsters through enforcement", she said.
Judiciary Service Commission representative Mr Michael Mumo also expressed concern over fraudsters operating in courts. He said that the Commission was looking into granting accreditation to court journalists as a measure of dealing with the menace.
Kenya Union of Journalists Secretary General Mr Eric Oduor underscored the importance of stakeholder collaboration in addressing the issue. He said: "We offer our full support as we purpose to bring sanity to the profession. Let us clean the industry by locking all the avenues of brown envelopes".
Kenya Editors Guild Chief Executive Officer Ms Rosalia Omungo encouraged the Council to heighten awareness around the issue and on the accreditation guidelines among media groups.
Source: MCK