His Excellency President Uhuru Kenyatta on Sunday led the country in celebrating the 57th Labour Day Celebrations at the Nyayo National Stadium in Nairobi County.
Speaking during the celebrations, the Head of State announced that the minimum wage had been increased by 12 per cent effective May 1, 2022.
"As a caring government, we find that there is a compelling case to review the minimum wage to cushion our workers against the further erosion of their purchasing power while also guaranteeing the competitiveness of our economy.
"In that context, I today declare an increase of the minimum wage by 12 percentage points, with effect from Sunday, May 1, 2022," the President announced.
President Kenyatta's proclamation means that the lowest-earning Kenyan will now pocket Ksh20,680 up from Ksh17,240. 
The Head of State noted that the upward review was occasioned by the cost of living, with Kenyans confronting the skyrocketing prices of essential commodities.
The trade union expected the government to review the minimum wage for unionisable workers by 23- 24 percent to help cushion them against the rising cost of living.
"We had asked President Uhuru for 23% minimum wage hike because the last wage was a 4.9% increase in 2018." COTU
At the same time, the President revisited the various measures taken by the Government to cushion Kenyans from the negative economic impacts of Covid-19, and regretted that the ongoing geopolitical conflict in eastern Europe involving Russia and Ukraine was slowing down the global economy's recovery from the pandemic.
The President, also directed Labour and Social Protection CS Simon Chelugui to immediately gazette COTU's representative on the NSSF Board of Trustees.
On the cost of fuel, President Kenyatta said the country's fuel subsidy programme had ensured that Kenya maintained among the lowest pump prices in the world, and cautioned oil marketers against hoarding petroleum products.
On the wage hike, which has been hiked four times under the Jubilee Administration, Javas Bigambo a Governance and Political analyast said, "Workers in Kenya and beyond should not be hoodwinked by capsule increment in minimum wage annually. We must continually frown upon wage disparity paid to executives and top leaders and low wages paid workers. Proper work must be matched with proper wages. If executives and top leaders must thrive, workers too must thrive."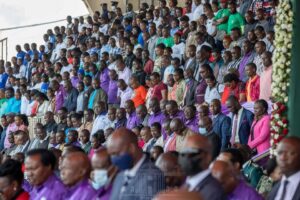 This year's Labour Day celebrations convened by Central Organisation for Trade Unions (COTU) Secretary General Francis Atwoli was marked under the theme "Job Creation, Peace, and Sustainability." And was the first pyhsical labour day event since 2020.
Photo: PSCU