President Uhuru Kenyatta and First Lady Margaret Kenyatta joined thousands of mourners at the State Burial Service of former President Emilio Mwai Kibaki at the Othaya Approved School Grounds in Nyeri County, with Catholic Archbishop of Nyeri, Anthony Muheria, leading the mass.
Retired President Mwai Kibaki, a Makerere University and London School of Economics trained economist, enjoyed a long and highly successful 50-year political career that saw him serve the country in different roles as MP, Assistant Minister, Cabinet Minister, Vice President and Leader of Official Opposition before rising to become Kenya's 3rd Head of State in 2002.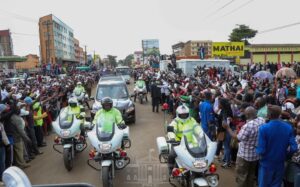 The cortège of former President Kibaki traversed through several Central Kenya towns and market centres on its way to Othaya in Nyeri County. Along the route, Central Kenya residents came out, braving the early morning cold weather, to bid farewell to a political kingpin who served the region as Othaya Constituency MP for a record 35 years in his long public service career spanning 5 decades.
The country's third president will be remembered for economic stewardship and growth of the country. He introduced free primary education and built a couple of impressive infrastructures.
The retired President Kibaki was accorded full military honours during his burial, which included the conveyance of the body of the former Head of State under escort in a Gun Carriage, accompanied by Military Musical Honors and a 19 gun-salute.
President Uhuru Kenyatta in his brief tribute assured the family of the former President of his continued friendship, and advised Kenyans to emulate the virtues espoused by the late leader.
Photos by: PCSU