Catholic Archbishop Anthony Muheria on Friday during the State funeral of the late President Mwai Kibaki at Nyayo Stadium, caught the attention of many Kenyans after he expertly de-escalated an unforseen situation by calmly moving an unidentified man who had jumped on the podium away from the microphone as security agents showed up to contain the situation.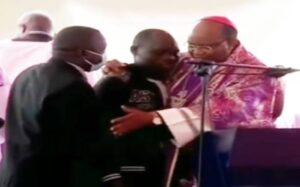 "Allow me just two minutes to make a few remarks," the man, who had a Kibaki photo pinned onto his shirt, could be heard telling Muheria.
The Archbishop embraced the man by calmly moving the man away from the microphone. "He is a son of our nation who is emotional at the loss of our president; treat him well," said Muheria, before he went on to lead the congregation in the final commendation.
Call it grace or compassion, the act by the Archbishop, would then take Kenyans to social media to commend him.
Speaking in Othaya on Saturday, ahead of the former President Kibaki's burual, Muheria downplayed his perceived heroic act saying anybody in his shoes would probably have done the same.
"It shouldn't be a surprise. We handle these things as the Holy Spirit guides us." He said. Adding that, "I think everyone, not just church leaders, should try to show a gesture of mercy whenever an occasion appears like that."
Archbishop Muheria who is a trained engineer turned priest. Studied Civil Engineering at the University of Nairobi and after five years of working as an engineer, he resigned and went to the seminary to study priesthood.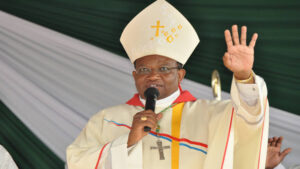 Muheria was ordained into priesthood on June 13, 1993 at the Don Bosco Technical Secondary Schooland in Embu County.
In 2003, he was elevated to the rank of Bishop and now the late Former President Mwai Kibaki attended his ordination as Bishop of Embu Diocese.
And since April 2017, He is serving as the Archbishop of the Roman Catholic Archdiocese of Nyeri.