President Uhuru Kenyatta on Friday led the nation in paying glowing tribute to Kenya's third Head of State, the late former President Mwai Kibaki.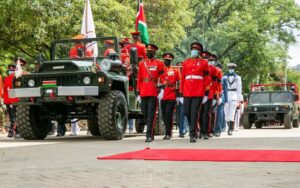 President Kenyatta eulogized President Kibaki as one of Kenya's greatest statesmen, a visionary and a leading architect of the modern Kenya.
"We honour and salute him today for his toil in the run-up to our nation's independence and, most notably, as amongst the leading architect of the modern Kenya state.
"As one of the last standing heroes of our independence struggle, he had a special calling to execute the last chapters of the vision of our founding fathers. And he did this with surgical precision and a total disregard for what the naysayers thought of him," President Kenyatta said.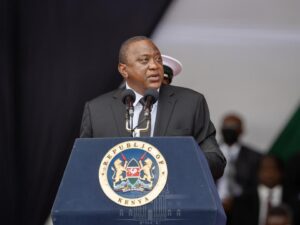 While retracing former President Kibaki's 50-year public service journey, President Kenyatta outlined the former President's public service exploits as a man, leader and visionary going into great detail to illustrate how he trailblazed in these areas.
Deputy President Dr William Ruto described former President Mwai Kibaki as a great scholar, Kenya's finest economist, and distinguished public servant who helped lay a firm foundation for the progress the country achieved over the years.
On his part, former Prime Minister Raila Odinga mourned the fallen former Head of State as an intellectual and steadfast leader who hated and fought the vice of corruption wholeheartedly.
Mr Odinga gave a blow-by-blow account of how former President Mwai Kibaki transitioned from academia into politics, and his illustrious journey to the Presidency.
Mr Jimmy Kibaki, who spoke on behalf of the late former President's family, eulogised his father as a loving parent, a patriot and an outstanding son of Kenya who served his country with utmost dedication.
Presidents Cyril Ramaphosa (South Africa) and Sahle Work-Zewde (Ethiopia) also spoke at the solemn event saying the departed former President was a great statesman and pan-Africanist.
In a statement read on his behalf, President Salva Kiir of South Sudan, who was present, thanked former President Mwai Kibaki for midwifing the Sudan peace process that led to the birth of the Eastern Africa nation.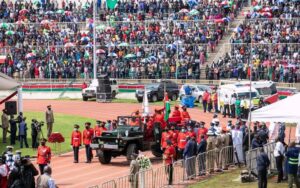 The leaders spoke at Nyayo National Stadium in Nairobi during the state funeral service where Catholic Archbishop Philip Anyolo assisted by Archbishop Martin Kivuva conducted the requiem mass in celebration of the life of President Kibaki.
The former Head of State, who passed away on Friday last week aged 90 years, will be accorded a State Burial conducted by the Kenya Defence Forces tomorrow at his Othaya home in Nyeri County after a State Burial Service to be held at the Othaya Approved School Grounds.
Photo|Images by: PCSU