Kenya's premier National Civic Education Organization, URAIA Trust, is set to spread the Kiswahili version of the Constitution of Kenya to all people in the country. This translation of the Constitution of Kenya uses the National Council's resolution to report on legal matters dated 27th August 2010.
"We have decided to publish and distribute this publication because Kiswahili, according to the constitution, is the national language of Kenya and is also the official language along with English." The statement by URAIA Trust read. 
"We hope this translation will enable more Kenyans to read, understand, and apply their constitution." It further stated.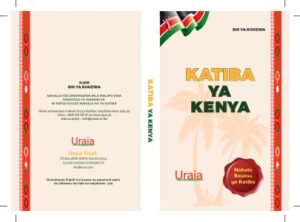 It is also expected that the publication and its use will contribute to the improvement of this translation. URAIA Trust therefore, has called on the users of this translation to contribute to its improvement by commenting on the legal terms used, vocabulary usage and so on.
It is important to remember however, that the use of the Kiswahili version is regulated by the Constitution under Article 259 (2) of the constitution which stipulates that in the event of any controversy over any translation, the official copy shall be in English.
The General Secretary of the National Council of Churches of Kenya (NCCK), has applauded URAIA Trust on what he termed a great milestone, "Tunashukuru idara ya Uraia Trust kwa kutafsiri Katiba ya Kenya kwa lugha ya Kiswahili. Safari ya kutafsiri Katiba kwa lugha zetu zote imeanza sasa ili kila raia aweze kuisoma, kuifahamu na kuitumia." Rev.Canon Chris Kinyanjui.
"We thank the URAIA Trust for translating the Constitution of Kenya into Kiswahili. The journey of translating the Constitution into all our languages ​​has begun now so that every citizen can read, understand and apply it." Rev. Canon Chris Kinyanjui.
URAIA Trust works to provide Kenyan citizens with quality, gender-responsive education about their constitutional rights and responsibilities to enable all to protect and promote democracy.
You can access the Swahili version here: https://uraia.or.ke/constitution-of-kenya/