The Chairperson of Kenyatta University Teaching, Referral and Research Hospital Prof. Olive Mugenda accompanied by the Board members and the technical team have come back from the US for the pre-shipment inspection of the much awaited CyberKnife – an advanced cancer treatment machine which will be the 2nd in Africa after Egypt.
"It will be delivered in a few weeks. We thank our President, HE Uhuru Kenyatta for authorising its acquisition," Prof. Olive Mugenda said.

CyberKnife is able to attack a cancerous tumor from multiple angles with speed and robotic precision; without affecting adjacent healthy cells. It's also able to get to difficult-to-reach organs because of its 360° flexibility.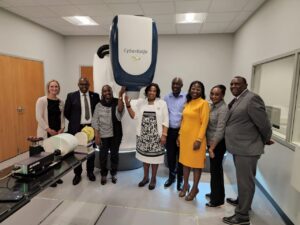 The advancement will support Ministry of Health efforts in dealing with medical tourism.
The CyberKnife System is the first and only fully robotic radiotherapy device. CyberKnife uses an approach called stereotactic body radiation therapy (SRS SBRT), delivering precise doses of radiation with extreme accuracy — and accounting for tumor or patient movement in real-time. https://cyberknife.com/
A number of deaths in the country related to cancer are as a result of infrastructural and resource limitation in the health sector. As a result, many perish because their cancers are diagnosed when they are at advanced stages hence too late for curative treatment.
Health data shows cancer is the third leading cause of death in Kenya after infectious and cardiovascular diseases.