President Uhuru Kenyatta'sproclamation on Friday that his predecessor Mwai Kibaki will be buried in full civilian and military honours has set in motion an elaborate process, whose climax will be a grand ceremony that will be witnessed only for the third time in Kenya's history.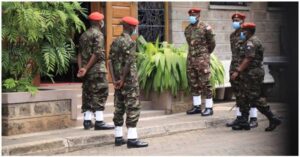 As a former Head of State, President Kibaki is set to be accorded a state funeral. The death proclamation is the first of many honours that the country is set to bestow on the former President, who has been described as the gentleman of Kenya's politics.
"In testimony of the highest of esteem in which all Kenyans hold the person and the memory of President Mwai Kibaki, the nation will observe a period of national mourning from today until sunset of the day of his interment," said President Kenyatta.
Mr Kibaki's interment will be Kenya's seventh state funeral, but he is the third to have full military honours. The only other two people to be accorded such elaborate funerals are the founding President Jomo Kenyatta in 1978 and his successor Daniel Moi in February, 2020.
As the military took position guarding the Lee Funeral Home, President Kenyatta chaired a meeting of high-ranking state and Kenya Defence Forces (KDF) officials at State House to make preliminary plans for the funeral.
Before breathing his last on Friday morning, the former president had been in and out of Nairobi Hospital for various ailments, including blood pressure.
Some close family sources also said Kibaki was still battling the consequences of the road accident he was involved in 2002 ahead of the elections that thrust him into the leadership of the country.
National and regional Leaders continue to euologize the former President Mwai Kibaki has a gentleman, a visionary leader who turned around the economy and education system in the country.

Mwai Kibaki, served as the third President of Kenya from December 2002 until April 2013.
More updates to follow…here at Familynews.Today