The churches of Sudan – and especially the Sudan Council of Churches as their ecumenical forum – have suffered from a serious lack of attention and support by international ecumenical partners since the separation of South Sudan in 2011.
To begin to close this attention gap, a delegation comprised of representatives from the World Council of Churches (WCC) and its ecumenical partners undertook an ecumenical solidarity visit to accompany the churches and people of Sudan in the midst of significant changes and challenges in the country.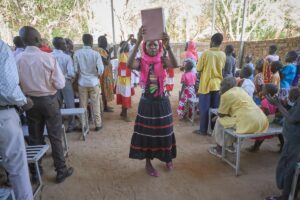 Together with the All Africa Conference of Churches and the Fellowship of Christian Councils and Churches in the Great Lakes and Horn of Africa, the solidarity visit to Sudan took place from 20-25 April.
The delegation committed to closer accompaniment of the Sudan Council of Churches and the churches of Sudan, and especially resolved to empower churches' participation in national discussions during this critical transitional period.
Dr Agnes Abuom, moderator of the WCC central committee, was part of the 12-person delegation. "We will continue to journey together with the churches of Sudan as they seek sustainable peace and justice for al the people of Sudan,"said Abuom. "We both acknowledge and support the pivotal task of local churches in accompanying the people during this time of transition."
Among other specific initiatives in this regard, the delegation committed to promoting exchange with national councils of churches in other contexts, so the Sudan Council of Churches interim leadership can benefit from the experience and expertise of national councils of churches elsewhere.