In a world where sexual immorality and perversion is celebrated, there are still young people in Kenyan universities and colleges who believe that sex is sacred and purity is a possibility.
This week they marched in various towns and campuses across the country to declare that sex was created for marriage and that there's Hope and Restoration for those who may have fallen. Christian Unions from the Universities of Machakos, Kenyatta, Karatina, Egerton, Maasai Mara, Embu, Jaramogi Oginga Odinga, Masinde Muliro, JKUAT, as well as KMTCs and Polytechnics around the country, participated in the march.
The campaign was organized by the Fellowship of Christian Unions (FOCUS) Kenya, which is celebrating 50 years of existence.
Students carried placards with words such as Kungoja ndio form, Say no to pornography, Tabia mbaya ni mbaya, True beauty lies in the purity of the heart, Abstinence is cool, Sexual purity is a possibility.
A young male student had boldly held a sign saying – Joseph did it, I can do it too #Flee.
Another girl had this written on her placard – Purity begins in the mind.
In Nakuru CU members from Egerton Nakuru Campus, JKUAT Nakuru and KMTC Nakuru came together and marched around the town chanting and proclaiming chastity.
Chastity campaign was launched in 2016 by FOCUS Kenya dubbed #MwiliWanguMaliyaMungu in response to emerging issues around sex that affect students in campuses. The need to entrench chastity as part of CU programs was high on the agenda as well as having content for discussions and training on sexuality and family values.
The theme for the  2023 chastity campaign is Hope for Restoration from Galatians 6:1.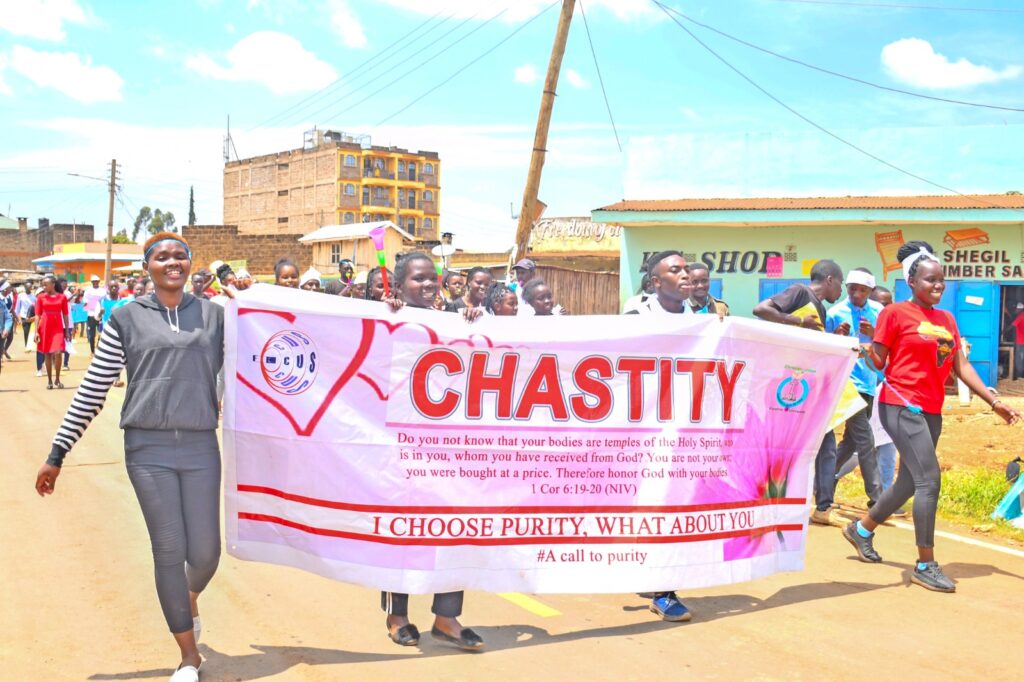 Ben Birgen, the Discipleship and leadership Coordinator at FOCUS says that this year's chastity campaign has run for the whole month of February targeting 56,000 students in 213 Christian unions in universities, colleges and KMTCs under FOCUS.
"In their small groups, students have gone through a study guide on sexual purity, relationships, singlehood, overcoming heartbreaks, godly dating/ marriage and mental health issues that result from sexual issues," says Ben.
These topics are also taught in the Friday and Sunday CU fellowships. Students going through the issues are mentored by FOCUS associates who are stationed in various parts of the country. Panel discussions and debates targeting non-believers were also conducted.
The campaign has also ran online, contextualized to the Christian unions involved. Some of the messages shared are:
Marriage is to be honored by all – Hebrews 13.4
Sex is sacred – God is the author of sex. He designed it as a gift to create oneness in marriage
It's God's will – 1 Thessalonians 4.4
It's honor to our bodies – 1 Corinthians 6:19-20
Please subscribe to our newsletter for Kenyan and International Christian news, encouraging testimonies, devotions, podcasts and updates from Family Media.
We promise to send you an email only once a week.
But why do all these? Why a campaign on purity?
PETER KIMEU, the PR and Communications Director at FOCUS Kenya says:
"The world has conspired against morals and ganged against chastity. The world's agenda is to normalize what is wicked. However, the righteous should endeavor to preach and promote what is right; chastity. The righteous should not give up the fight no matter how difficult it is. This is not an easy affair, but if it is not done, the world will dictate the narrative. That is why we must talk about chastity."
These events culminate on a day set apart when participants prayerfully signed purity pledge cards. Should you want to make the commitment for sexual purity, you can visit http://focuskenya.org/chastity
While the cards just like any other symbolic figures such as wedding rings, didn't have any magic or spiritual powers to keep anyone pure, they act and continue to act as reminders to the commitment made by individuals.
"Believers need not shy from talking about chastity," Kimeu says. "This will not only reach the lost but also encourage those pursuing purity and encounter daily struggles. We should not forget that we are equally weak and need to continually look up to God to help us in the journey of seeking sexual purity."
Family Media commends the courage and boldness of the university students involved in the chastity campaign and FOCUS Kenya for driving such a spiritually transformative initiative.