Madaraka Day, 1st June, commemorates the day that Kenya attained internal self-rule or Self-Governance Day in 1963, preceding full independence from the United Kingdom after being a British colony since 1920.
Leading Kenyans in marking the Madaraka Day national celebrations today at Uhuru Gardens National Monument, President Uhuru Kenyatta inspected a Guard of Honour mounted by a detachment of the 3 formations of the Kenya Defence Forces: Kenya Army, Kenya Air Force and Kenya Navy.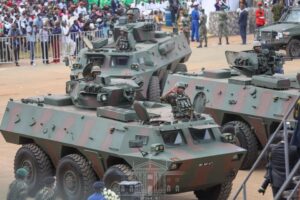 The military showcases their hardware in a rare show.
"My joy today is that we have been able to restore the sanctity and historical significance of Uhuru Gardens. Following many years of neglect, this site had become a den of thieves; we have reclaimed it and restored its dignity and purity." President Uhuru said.
President Uhuru Kenyatta who took time to explain why his administration has heavily invested in infrastructure said, "Without infrastructure, there is no way of finding new possibilities; that is why my administration made it one of our big push investments," he further stated, "The price of liberating a nation is not the same price as that of growing a nation. To keep and nurture our freedom we must pay a higher price."
The Head of State said the Madaraka Day is significant in our history because it's on this day that the fathers of our nation replaced the colonial govt and formed the first indigenous govt of Kenya and with this act we achieved self rule.
"According to our founding fathers, our flag is not just a sentimental piece of fabric decorated in ink. We must always remember that each time it flies, it is blown by the last breath of our liberators." He said.
The President who assumed office on 9th of April 2013, as the nation's 4th President. Today, 9 years and 2 months later, his administration has built & strengthened the social fabric, making Kenya safer and healthier, fairer and just; a nation where justice is our shield and defender. On his commitment to equality and inclusivity,
"I have had the pleasure of working with 11 women in my cabinet at different times and in different capacities; all of them have placed our country at a good place globally." President Uhuru.
On National security and defense, the President said it was a priority area since 2013 because without a secure environment, no life can flourish and no enterprise can thrive.
The event that was celebrated countrywide after 2 years having been halted by Covid-19 pandemic was attended with dignitaries led by Sierra Leon President Julius Maada Bio and the First Lady Bio.
"We here to strengthen our ties with Kenya in international cooperation, peace and security, wildlife and tourism, ICT and education and trade and investment." – President Julius Maada Bio of Sierra Leone said.
This 59th Madaraka Day finds the country ready for its 3rd and most significant liberation. Time to elect new leaders in the August polls.
Time to come together and attain the prosperity, peace and freedom that our forefathers fought so hard for.