Each year on June 20, the world celebrates World Refugee Day. This year, the focus is themed around the "Right to Asylum" following the Ukraine crisis.
There are more than 80 million people around the world displaced by wars, conflicts, and persecution. Of this number close to 27m are refugees. Africa hosts some of the highest numbers of refugees globally with Kenya, Uganda, Sudan, DRC Congo, and Ethiopia being the top refugee -hosting countries in Africa.
Among the refugee population in Kenya, over half are children of school going age but only one-third of refugees have access to secondary education and less than one-sixth have access to tertiary education including technical, vocational education and training. This means not all refugees and asylum seeking learners are enrolled in pre-primary and secondary schools located in Daabab and Kakuma refugee camps.
According to the department of Early Learning and Basic Education over 150,000 refugee learners were affected by school closures during the pandemic.
UNHCR, the UN Refugee Agency, has joined millions of others around the world in honoring those who have fled conflict, violence and persecution in search of safety, noting that the right to seek safety – is more critical than ever.
"Today and every day, we believe that every person on this planet has a right to seek safety – whoever they are, wherever they come from and whenever they are forced to flee. By keeping our doors and hearts open to refugees, we can offer them a chance to use their energy and talents in meaningful ways that ultimately benefit us all." UNHCR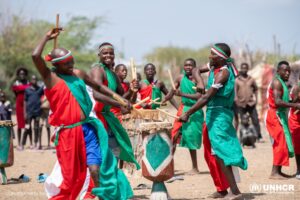 As part of World Refugee Day celebrations in Kenya, UNHCR Representative to Kenya, Caroline Van Buren while addressing the refugees in Kalobeyei settlement in Kakuma said,
"It is our responsibility to ensure that those who are forced to flee can rebuild their lives free from discrimination. We must continue to welcome them as equal partners in creating long-term solutions."

Yiech Pur Biel, UNHCR's Goodwill Ambassador and a South Sudanese track and field refugee athlete, who also addressed the crowd said, "Being a refugee does not take away your talents, your skills. Continue to nurture your skills. Play football, chess. Nurture your athletics."
"Let's empower youth, our safety comes from education."

Nyanen spoke up during this year's

commemoration.

She's working with young refugees in Kakuma so they can build a better future together.
World Refugee Day is an occasion to build empathy and understanding for their plight and to recognize their resilience in rebuilding their lives.