The Very Reverend Dr. David Githii is a humble man by all means. He was born in Gikambura area in Kikuyu constituency, Kiambu County. He was the 17th and 18th General Assembly Moderator of the Presbyterian Church of East Africa having served from the year 2003 to 2009.
Rev.Githii was defrocked from the church due to his stance and fight against alleged homosexuality and devil worship in the church. He claimed that PCEA had failed to deal with devil worship and homosexuality in the church.
"During a General Assembly meeting held in the USA, the organisers of the meeting wanted me to stand during the meeting and say 'me, my church, and the church in Africa are for gay marriage'
I instead opposed, and from that moment henceforth they (organisers) refused to pay for my expenses although when leaving Kenya I had been told it was an all-expenses-paid trip.  I had to come back home with the help of some people who pitied me." he said.
Rev Githii, however, does not regret his utterances. He, for instance, says his eyes to satanic symbols were opened when he went to pray at the Kenyan parliament and he recognised the satanic symbols on the parliament building walls.
"God called me into the ministry not to hold titles but to reach the unreached people with the gospel, and this is why despite being abruptly retired by the Presbyterian Church in 2012 after occupying the highest office of the church in East Africa, I started a new church, El-Gibbor Church in 2014."
Githii, who is also an educationist and an alumnus of Thogoto Teachers Training College taught in various institutions in the country before he went into full-time ministry in the early 80s.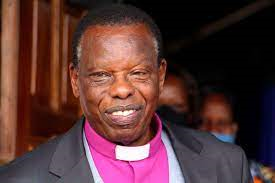 The 71-year-old cleric has made an entrance into the murky waters of politics and has joined the race to succeed President Uhuru Kenyatta. He is banking on God and 'Kenyans of goodwill' to support his quest come 9th August 2022.
"The country needs a man of God who will steer the country towards achieving development and creating wealth for the less fortunate in the country."
Appearing on our very first episode of What's The Point YouTube show dedicated to deep and engaging conversations with individuals in quest of courageous leadership, Rev. Githii says his main point for vying for the top seat is to lead in the fight against corruption which has seen the country's resources end in a few people's pockets.
The cleric whose nationwide campaign to rally support from Kenyans is yet to be felt had this to say on What's The Point?