CJ Martha Koome has launched the Alternative Justice Systems Model, Action Plan, and Small Claims Courts at the Nakuru Law Courts in line with her vision of Social Transformation through access to Justice.
The system, which gives the council of elders and religious leaders a bigger role to play in the justice system, is aimed at providing alternative forms of dispute resolution mechanisms including traditional approaches as long as they do not contravene the Constitution.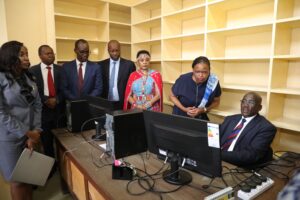 The Small Claims Court, on the other hand, is vested with the mandate of determining civil dispute cases that involve claims of less than Sh1 million through procedural simplicity, flexibility, efficiency, and expeditiousness in the delivery of decisions.
"By embracing the new innovative options available including the Alternative Justice Systems (AJS) and the Small Claims Court, the public will efficiently resolve their conflicts, strengthen social harmony and boost state stability,'' she said.
Chief Justice Koome noted that " the Judiciary is at the fore in widening the doorways of justice which has the dual effect of creating a stronger, more efficient Judiciary and an empowered citizenry.''
All cases filed in the court have to be concluded within 60 days.
The Courts aim to reduce the backlog, facilitate citizen access to justice, and open the courts to the public directly. Accordingly, they are an avenue for enhancing people-centred justice.
Speaking in the same forum, Governor Kinyanjui lauded the move by the Judiciary saying it will enhance access to justice because Nakuru is one of the 12 jurisdictions in the country that have been year-marked to deal with easing the backlog of cases in the country.
"There are many times Kenyans experiencing injustice just resign and say Nimewachia Mungu (I leave it to God) because justice seems so far and so difficult to achieve." He noted.
The CJ was accompanied by Deputy Chief Justice Philomena Mwilu.