Since the outbreak and the first case of COVID-19 virus being reported in the country in March, 2020. The COVID-19 pandemic continues to present unique and challenging circumstances for event organizers, with the church being no exception.
COVID-19 has had a major impact on singers and other musicians worldwide. Events, and concerts planned and scheduled were all cancelled due to fears that they will be viral "super-spreaders."
However, with the lifting of the COVID-19 restrictions by the government, the event planers  can now breathe a sigh of relief.
On Saturday, Lavington United Church organized the first ever in-person worship concert at Ngong Racecourse, Nairobi. The event was attended by over 150 people including, local and international gospel artistes among them Dr.Ipyana a Gospel singer and songwriter from Tanzania.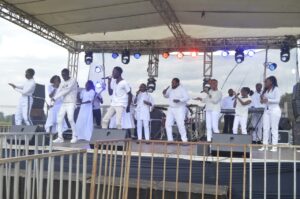 Electrifying worship sessions that begun from 12 noon were done by the acclaimed gospel artiste Size 8 Reborn, Mercy Masika, Eko Dydda, Moji Shortbaba, Timeless Noel, and David Wonder.
Addressing the attendees, the National Cohesion and Integration Commission Kenya, (NCIC) Chairperson Rev.Dr. Samuel Kobia called on Kenyans to champion peace and harmony as the country heads towards the general elections.
Among the dignitaries who attended the worship concert was the Music Copyright Society of Kenya(MCSK) Dr.Ezekiel Mutua.
The event also saw the launch of 40 days of prayer.