Born 1941. He worked as a minister before he retired in 2001.
Reverend Timothy Njoya holds a Ph.D. from Princeton Seminary and a Doctor of Divinity from Toronto University. The retired Presbyterian Church of East Africa clergy is now actively involved in human rights activism and research work on masculinity.
That image of Reverend Timothy Njoya lying on the side of the road helplessly as police beat him up, is one that forever stays on our minds.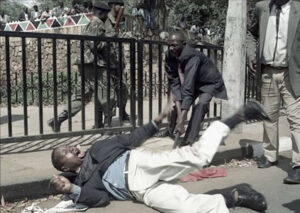 On New Year's Eve in 1990, Rev. Njoya was the very first Kenyan to call upon the government to revert to political pluralism. In his sermon at Nairobi's St Andrew's Church where he was the parish minister, Rev Njoya denounced one-party systems in Africa and said they were doomed to fail the same way they had failed in Eastern Europe. He called for their abolition.
"I prepared that sermon specifically to revive the constitutional review debate which I felt was dissipating since I had last called for a new Kenya in October 1986. I anticipated what would happen and it did," he said.
Before that, his sermon on October 5, 1986, titled "God's Justice Triumphs by Reason Through Faith" which was drawn from the book of Habakkuk, the Reverend said, "It's high time the government called a Barraza, as God did, and invite all dissidents, malcontents, critics, fugitives and anyone with a grievance or complaint to attend and say what they think."
"As soon as the sermon was delivered, the late President Moi summoned a delegation of Kenya's top clergy to State House." Recalls the Rev Njoya.
His fiery sermons largely interpreted as "assault on the Kanu government" left the PCEA leadership without a choice but to defrock him for two years even though he had opted to retire "on grounds of conscience'' fearing he would preach more "subversive sermons" if he remained in service. That request was denied and he was instead demoted.
He was ultimately reinstated and, as the events of January 1990 show, he immediately started from where he had left off. A vision he would later pay dearly.
Assaulted multiple times by the Moi regime, the pro-democracy activist Rev. Njoya became the face of steadfast resistance in the 90s. He became Kenya's 2nd liberation hero; he was brutally beaten and maimed. He was a nonconformist and a patriot of the Soil!
"These scars on my hands are a constant reminder of the torture myself, Raila Odinga, James Orengo, Kiraitu Murungi, Charles Rubia, Kenneth Matiba, and thousands of Kenyans went through in the hands of Moi and his YK92 boys." – Rev. Timothy Njoya
Reverend Njoya urges Kenyans to thank God for the freedom of speech we enjoy today, that people can challenge the leadership and nothing happens to them. "I remember a time when policemen were sent to attack me for preaching and my 3 fingers were injured. I told those who attacked me that I had forgiven them."
As his comrade the late Archbishop Desmond Tutu was in South Africa, Njoya was in Kenya's Truth Justice and Reconciliation Commission (TJRC) as a patriot. Rev.Njoya became known as the Social Justice Warrior, and Kenyans across all the political divide, tribes, and religions celebrate his sacrifices and courage in speaking truth to power. He selflessly chose to set the pace. The pace, the current church leadership has failed to keep up with.
In the days of Henry Okullu, Alexander Muge, David Gitari, Ndingi Mwana a'Nzeki, and James Mundia, the people depended on the clergy to protect us from politicians. However, times have changed. On the many matters of National importance, people ask, where is the Clergy? Their silence is so loud. We need to hear their voice… more so now as the country grapples with corruption, high cost of living and the debt burden.
On Politicians running to church ahead of the 2022 elections, Reverend Njoya says the difficult choices in churches today as politicians seize control of the pulpit in their 2022 campaign onslaught make our religious leaders look defeated, silenced, and compromised.
"If a politician brought money to my church, I would whip them…That is thuggery and banditry…Are we bribing God? Instead of the church protecting congregants, it is selling them to thieves." He continues to say, "Instead of defending the votes of the congregants, the church is selling the congregants. Worse of all, it is selling the congregants to thieves who steal votes, money, land, and so on. Thieves who have no moral efficacy."
This Rev Timothy Njoya though, you can't get enough of him. He doesn't breathe oxygen but people who visit him, who love him. That is why he became a minister and a human rights defender, and as we end up our talk, I ask him if he had forgiven the regime that maimed him, and this is what he had to say:
"I do not hold any grudge because I started the 'war'. We were fighting Moi agitating for multi-party. In fact, one thing I liked about Moi is that he was the greatest President in Africa…He changed his mind about the things we were agitating for.''
Rev. Timothy Njoya has authored a book titled "We The People : Thinking Heavenly, Acting Kenyanly." Grab a copy!
Featured Photo by Wilberforce Okwiri.