Politicians and church leaders have urged Christians to pray for unity as a new Conservative party leadership contest looms.
"One of the things we can do as Christians is be praying for the right person," Claire Da Silva, Conservative Parliamentary spokesperson for St Albans, was quoted saying.
"The right person, who may or may not be somebody you agree with, but someone who has that kind of authority, and the ability to build things together. That's what we really need."
It follows Liz Truss' decision to step down as prime minister and leader of the Conservative party after 44 days in office and a week of turmoil in Westminster.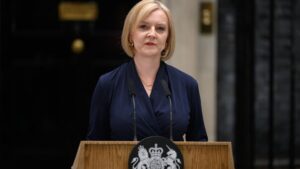 Speaking outside Downing Street, Truss said she recognised she could no longer deliver on the mandate upon which she was elected and called on a new leadership contest.
Sir Graham Brady, chairman of 1922 Committee, confirmed plans are being put in place to have a new leader by the 28th October.
Steve Webb, a Christian and former Lib Dem MP said, "If the last couple of months have taught us anything, it's how divided the governing party is. So whoever it is, has to be somebody I think, who can command respect, but also is willing to say, look, none of us we've got a monopoly on truth here.
"Here's where I stand. But I want the best of the brightest and the best, not just my ideological soulmates, and I think Penny Mourdant has impressed colleagues."
Christian Conservative MP for West Cornwall and the Isles of Scilly, Derek Thomas took to twitter to support Penny Mordaunt.
He wrote: "Although she wasn't my first choice, I supported Liz Truss because I believed she would deliver the growth this country needs.
"She herself accepted in her resignation speech that she will not be able to do so. My first choice for Prime Minister is again Penny Mordaunt. #PMforPM."
Rishi Sunak, Jeremy Hunt and Nadim Zahawi are some of the other names being talked about among MPs.
But not everyone is happy there will be another leadership contest. Catholic Janet Daby, Labour MP for Lewisham called for a general election.
"Whilst the Conservatives are creating chaos, UK Labour is a Government in waiting. We have a bold vision to help millions of hard working families. The Tories have proved they cannot handle the nation's finances."
Tim Farron, MP for Westmorland and Lonsdale, also joined calls for a general election.
He wrote on Twitter: "Our country deserves and desperately needs a government that is competent and compassionate – it is clear that the Conservatives are neither.
"This charade is only set to continue unless the people get their say in the form of a general election."
Liz Truss will remain as Prime Minister until a successor has been chosen.