The Church in Sri Lanka is in dire financial need, impeding priests in their pastoral efforts, according to Catholic charity Aid to the Church in Need (ACN).
Sri Lanka is in the grip of a severe financial crisis caused by the rising price of importing crucial goods, mounting debt and a fall in the price of the Sri Lankan rupee against the US dollar.
This is causing huge food and medicine queues, with reports of people dying in queues while awaiting help.
ACN has issued more than £390,000 in vital support for priests and religious workers, thanks to the generosity of its supporters so that they can continue their essential ministry during the country's state of emergency.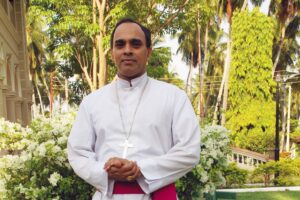 But much more help is needed, according to Bishop Valence Mendis of Kandy, who is also Apostolic Administrator of Chilaw, in Sir Lanka's north western province.
He said: "People can afford virtually nothing. Our priests and religious are badly affected by the crisis."
Food prices are now 80 percent higher than this time last year, ACN said. Sri Lanka's financial crisis has also been deepened by corruption, lack of fuel, and the loss of tourist income caused by the coronavirus pandemic.
"The economic situation in the country is very serious. Many people are suffering lack of medicine or food. There are very long queues, miles and miles of people trying to buy fuel, gas, powdered milk, sugar, rice, medicine…
"A number of people have died in these queues while waiting to buy basic goods. Many people have lost their jobs, and prices have risen astronomically." Bishop Mendia said.
Ranil Wickremesinghe, who was made interim president on Friday 15th July 2022 after his predecessor Gotabaya Rajapaksa fled the country following protests over the economic crisis, declared a state of emergency on Sunday 17th July 2022.
The state of emergency is designed to tackle social unrest stemming from the growing economic crisis.